Macleay Hotel
Establishment and lodging at 28 MacLeay Street, Elizabeth Bay, NSW 2011, Australia. Here you will find detailed information about Macleay Hotel: address, phone, fax, opening hours, customer reviews, photos, directions and more.
Opening hours
| | |
| --- | --- |
| Sunday | 12:00am — 11:59pm |
| Monday | 12:00am — 11:59pm |
| Tuesday | 12:00am — 11:59pm |
| Wednesday | 12:00am — 11:59pm |
| Thursday | 12:00am — 11:59pm |
| Friday | 12:00am — 11:59pm |
| Saturday | 12:00am — 11:59pm |
Rating
4 /5
Based on 1 reviews
Photos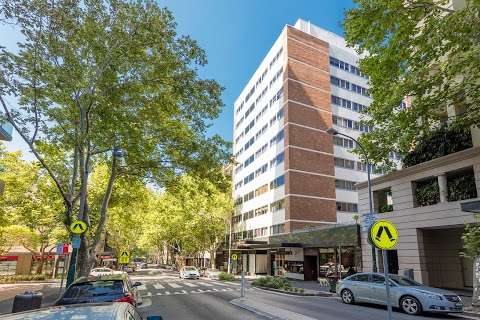 Reviews of Macleay Hotel
Jackie Turner Added July 12, 2020

★ ☆ ☆ ☆ ☆

Not worth the money they charge per night. I appreciate that the concierge was attempting to provide good customer service and was kind enough to place me in an "upgraded" Room with a view but even the room its self was outdated and i woke up to a bed bug crawling on my face.

lakisha Delaune Added July 09, 2020

★ ★ ★ ★ ★

If anybody is trying to find good deals for hotels visit RoomBully. com booked a hotel on there and they had the best rates anywhere!

We had again a wonderful stay here. Even with the fires around and air bit hazy.||Must be now more than 10 years that we always stay here when visiting Sydney.||It is so nice to see the same staff at reception and even the housekeeping staff.||Everybody so helpful and friendly.||Looking forward for our next visit.

shanmuga sundaram Added July 04, 2020

★ ★ ★ ★ ★

I am loving it, Excellent staff, the experience they set as you enter into the building is just exceptional, coupled with quick service and a location which is right at the heart of many attraction and shops... what more you need, I am gonna continue my stay here.

The highlight is the Sunrise, but the treat is the Sunset from my room, it is breath taking every single day. The photos are captured from my phone in pro mode, to detail as to what the eye can see. I wanted you all to experience, the joy I am being presented with. Great place in a beautiful Australia.

Jacqueline T Added June 26, 2020

★ ☆ ☆ ☆ ☆

not worth the price you pay per night. I appreciate the good service shown by the concierge who tried to upgrade me and give me a room with a harbour view but it was outdated and run down and woke up to find a bed bug on my pillow. There was also an annoying tapping sound from the air ducts that made it impossible to sleep. I spoke to the general manager Susan who was really manipulative on the phone and tried to imply that I was lying because she went up to the room and supposedly pulled everything apart and could not see anything. Obviously someone does not want to pay $120 for a room and have bed bugs so its not something someone would lie about and she had been told that I have a video with the time and evidence that I was in the room. It is clearly a bed bug. She then tried to manipulate me by saying bed bugs are a normal thing for hotels and happen quiet a lot. I am staying in one this evening for more then half the price - with new modern furniture and its completely clean - Have never had an experience in a hotel with bed bugs before! just yuk. AVOID this hotel. Certainly will not be going back myself.

Robert Mason Added June 26, 2020

★ ★ ★ ★ ★

The Macleay is not the fanciest hotel in Sydney but is friendly, clean, well appointed and very central. Have stayed several times and will definitely be back. Thanks all.

David Channin Added April 21, 2018

★ ★ ★ ★ ☆

Nice, boutique hotel, in Elizabeth Bay District of Sydney. Convenient to great restaurants and transport. Nice walking neighborhood. Staff very friendly and helpful.
Questions & Answers
1. What is the phone number for Macleay Hotel
The phone number for Macleay Hotel is +61 2 9357 7755.
2. Where is Macleay Hotel located?
Macleay Hotel is located at 28 MacLeay Street Elizabeth Bay, NSW 2011.
3. Is there a primary contact for Macleay Hotel
You can contact Macleay Hotel by phone using number +61 2 9357 7755.
4. What is the web address (URL) for Macleay Hotel
The website for Macleay Hotel is themacleay.com.
About themacleay.com
Home - The Macleay
The Macleay Hotel Sydney is located in Potts Point with vast views of Sydney Harbour. Situated close to the CBD, vibrant restaurants & bars are on our doorstep.

Share this page
Additional actions
Today's weather in Elizabeth Bay NSW
13:00
18 ℃ 1006 hPa 44 % 8 m/s 16:00
17 ℃ 1006 hPa 45 % 7 m/s 19:00
15 ℃ 1008 hPa 53 % 5 m/s 22:00
12 ℃ 1010 hPa 67 % 6 m/s
Tomorrow's weather in Elizabeth Bay NSW
01:00
11 ℃ 1009 hPa 73 % 4 m/s 04:00
11 ℃ 1009 hPa 73 % 5 m/s 07:00
10 ℃ 1010 hPa 74 % 4 m/s 10:00
14 ℃ 1011 hPa 54 % 5 m/s 13:00
17 ℃ 1009 hPa 41 % 6 m/s 16:00
16 ℃ 1010 hPa 46 % 7 m/s 19:00
13 ℃ 1013 hPa 60 % 5 m/s 22:00
12 ℃ 1015 hPa 68 % 5 m/s